Joint Replacement Surgery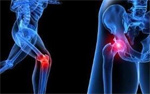 We specialize in joint replacements of the hip and knee for the treatment of advanced arthritis and avascular necrosis. Arthritis is the loss of articular cartilage in the joint, leading to debilitating pain, reduced range of motion, stiffness, and reduced activities. The type of arthritis, whether it is osteoarthritis, rheumatoid arthritis, traumatic arthritis or gouty arthritis will help determine the treatment options. Avascular necrosis is a rare condition when part of the bone loses its blood supply and dies, creating severe pain. Early arthritis can usually be treated with steroid injections or viscosupplementation, and sometimes arthroscopic debridement. When non-surgical and arthroscopic treatments of arthritis and avascular necrosis no longer provide satisfactory pain relief, joint replacement is a good procedure in most patients.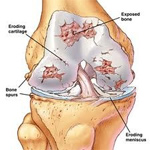 Joint replacement can sometimes be a daunting decision and complicated process for the patient. We help make that process simple and understandable. We evaluate each patients' condition and recommend the appropriate implant to meet their needs in terms of type of fixation, material, and bearing type. We coordinate the surgical process with the patients primary care physician to make sure all the medical needs are met during the surgical period. We coordinate the scheduling with the hospital, the preoperative workup and labs.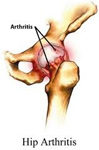 We also coordinate the preoperative education with the hospitals to describe the preoperative preparation, surgical process, hospital stay, responsibilities, expectations, risks, and rehabilitation. We are involved in every step of the process to make sure your surgery is a success and as painless as possible.
Advances in anesthesia techniques and pain control have allowed shorter stays in the hospital and faster rehabilitation. Most patients stay in the hospital for 2-3 days. Most can be discharged home with outpatient physical therapy or home health care. Some are candidates for inpatient rehabilitation at an area skilled nursing facility or one of the two outstanding rehabilitation hospitals in Texarkana.