Arthroscopic Surgery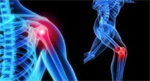 We specialize in arthroscopy of the knee and shoulder. Arthroscopy is a minimally invasive technique using tiny incisions to place a camera inside the joint for viewing and small instruments and implants to perform the needed repairs. Whether its a sports injury, work-related injury, or an age-related condition of the joints, we can help. We are trained in the latest arthroscopic techniques, implants, and equipment.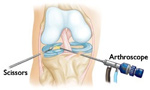 In most cases, arthroscopic surgery is performed as an outpatient at the modern award-winning Texarkana Surgery Center.
We offer comprehensive care from the initial evaluation to obtaining the imaging studies, surgery, and management of postoperative rehabilitation if needed.
An excellent source of the graphically illustrated videos that demonstrate the surgical techniques we perform on the knee and shoulder can be found at OrthoIllustrated.
Knee Arthroscopy Procedures: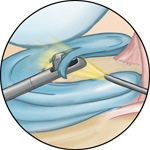 Meniscectomy for torn meniscal tears. Most meniscal tears occur in an area that has no blood supply, so they have no ability to heal. In these instances, the torn portion of the meniscus is cut back to a stable surface to reduce pain. Sometimes the meniscus is torn at its outside peripheral edge that has a good blood supply. For those peripheral tears that have a good blood supply, meniscal repair can be performed.
Anterior Cruciate Ligament (ACL) Reconstruction is performed by substituting a patella tendon bone-tendon-bone (BTB) graft. The graft is harvested from the central third of the patella tendon with small blocks of bone from the knee cap and tibia. This is then firmly secured with an endobutton and an interference screw to provide stable fixation.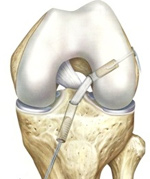 Shoulder Arthroscopy Procedures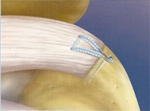 Rotator Cuff Repair can be done arthroscopically or by a mini-open technique. The quality of the rotator cuff tissue and patient age are factors in determining the most appropriate technique to use.
Labral Repair reattaches the soft tissue back to the bone of the glenoid portion of the shoulder to reduce pain and improve joint stability.
SLAP Labral Repair is also performed arthroscopically. A SLAP tear is a tear of the superior portion of the labrum, either anterior or posterior. Often, the biceps tendon that attaches at the same location on the top of the glenoid has to be cut, relocated, and reattached to the front of the humerus.